Famous Places to visit in Amritsar – Amritsar is a city in the state of Punjab, India. It is the administrative headquarters of the area. There are many tourist attractions in Amritsar including a beautiful tourist place call Jallianwala Bagh. Another tourist place is the Golden Temple, the most sacred place for Sikh people. If you want to know more about Jallianwala Bagh and Golden Temple, you should read the rest of this article. The Golden Temple is an important location for Sikhism; it is a sacred place – you can feel the holiness everywhere. People who visit this place feel relaxed and calm, because it is a very peaceful place.
The Golden Temple is the main attraction for many tourists visiting Amritsar. It is located in the middle of a lake, so people say that it looks like a 'floating island' because of this. The Golden Temple is a very special place for the Sikh community. It is a place to meet with God and enjoy life if you are a Sikh. As I said, it has five entrances, which connect to five bridges that lead to the temple. The walls of this sacred place are made from pure gold and from marble stone.
Here is the List of some famous places in Amritsar:
1.Golden Temple – Famous Places to visit in Amritsar
Golden Temple is one of the most Famous Places to visit in Amritsar and sacred place for Sikhs. This Temple is known as Harmandir Sahib, lit.? 'abode of God'. It is one of the most beautiful and famous attractions in the world. The Golden temple has four gates. This Temple is surrounded by a 5.1-meter-deep manmade lake. The Golden Temple is a very important place for Sikhs. It has a place very much like a collection room, it is call Sangat, which means community. People who visit this place often pray and meet with God here. Golden temple is home to the world's largest community kitchen. People who work in the kitchen come from all over the world to prepare food. The food prepare in Golden temple is special because all vegetables are grown only in this Temple.
Address: Golden Temple Rd, Atta Mandi, Katra Ahluwalia, Amritsar, Punjab 143006
2.Wagah Border Ceremony 

source : https://www.planetware.com/
Wagah Border ceremony is held every day at sunset on the Wagah Border in Amritsar. The Wagah border is the only road border between India and Pakistan. You must visit the Wagah Border Ceremony if you're visiting Amritsar. The sound of the bugles and beating of drums during the ceremony make this one of the most amazing sights in Asia. This ceremony starts with a parade by the soldiers from both sides and ends up in the perfectly coordinate lowering of the two nations' flags. The flags are folded and the ceremony ends with a retreat that involves a handshake between soldiers from either side, follow by the closing of the gates again.
3.Jallianwala Bagh – Famous Places to visit in Amritsar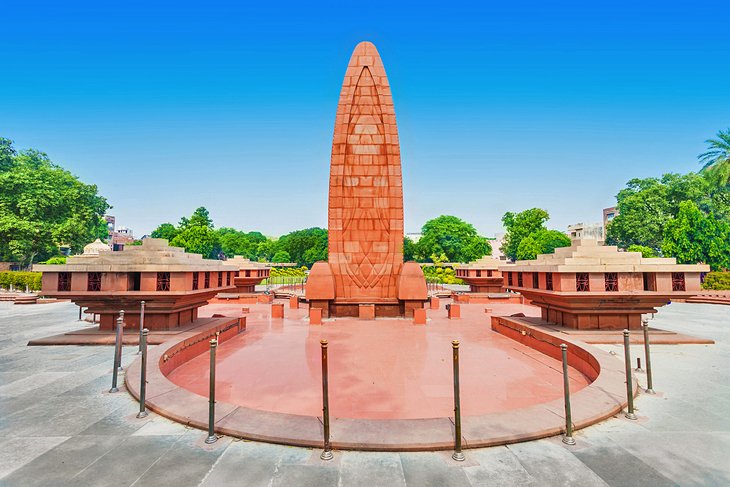 source : https://www.planetware.com/
Jallianwala Bagh is a big park that is situates in Amritsar district, Punjab. This is also the Famous Place to visit in Amritsar. It is an important place for the Sikhs and there are many things to see here. One of the most interesting things about this park is that you can see the history of the freedom struggle of India and Pakistan in this place. There are also many other interesting attractions in this place, like a museum, a houses, gallery and several memorial structures. It is a very nice place to visit in Amritsar because it's very peaceful and no one can disturb you here.
Address: Golden Temple Rd, Amritsar, Punjab
4.Partition Museum – Famous Places to visit in Amritsar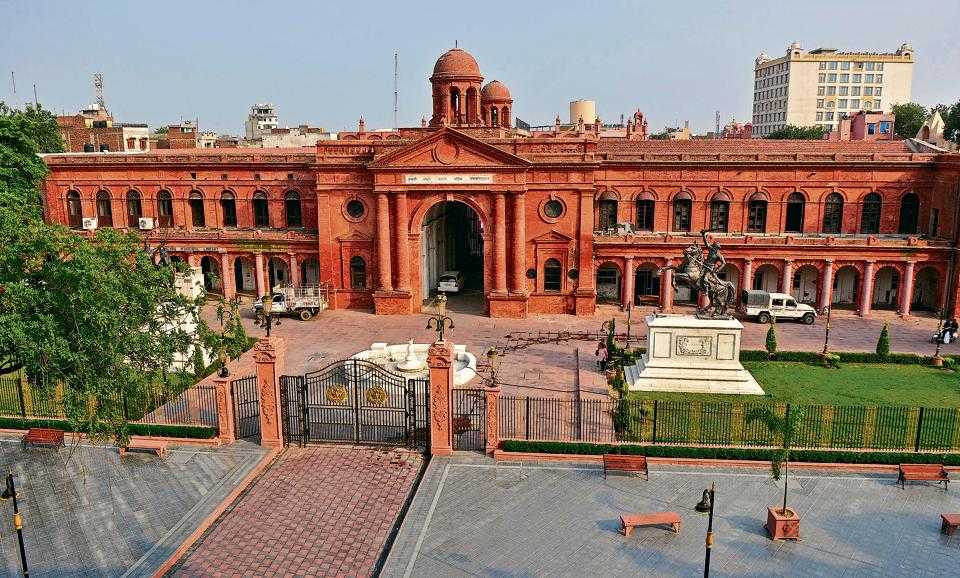 source : https://www.holidify.com/
The Partition Museum is a place in Amritsar, Punjab, India. It is a very interesting place to visit because you can see the history of the story of India and Pakistan. This Museum was establish on 17 August 2017, marking the day as Partition Remembrance Day, as it was on 17 August 1947 that the actual boundaries of India and Pakistan were announce. The Partition Museum is a very important place because this is where the two nations found that was independent. Every year almost seven million tourists visit this place. So, it's one of the biggest attractions in Amritsar.
Address: Hall Rd, Town Hall, Katra Ahluwalia, Amritsar, Punjab 143006
5.Akal Takht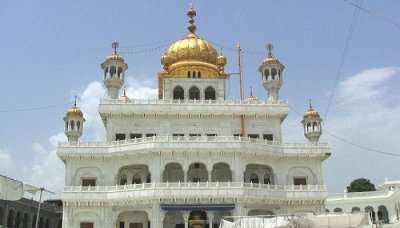 source :https://img.traveltriangle.com/
Akal Takht is a very important place for the Sikhs and it is situates in Amritsar. It is situates in an area call Harmandir Sahib. This Takht is one of the five takhts of Sikhs. The Akal Takht was establish by Shri Guru Hargobind Ji as a place of justice and consideration of temporal issues, the highest seat of earthly authority of the Khalsa and the place of the Jathedar, the highest spokesman of the Sikhs. The Sikhs recognize five places at takhts. The three are in Punjab —Akal Takht, Takht Keshgarh Sahib, Takht Damdama Sahib — and the other two are Takht Patna Sahib (Bihar) and Takht Hazur Sahib (Nanded, Maharashtra).
Address: Harmandir Sahib, Golden Temple Rd, Atta Mandi, Katra Ahluwalia, Amritsar, Punjab 143006
6. Gobindgarh Fort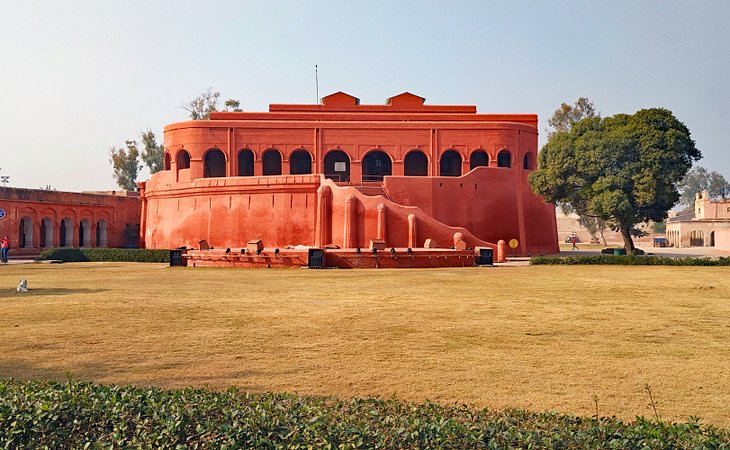 source : https://www.planetware.com/
Gobindgarh Fort is a fort in Amritsar. Now this Fort is being develop  as a museum and theme park, as a repository of Punjab's history. This is also known as the Bhangian da Killa. This fort was establish by Dhillon Jat Misldar Gujjar Singh Banghi of Bhangi Misl, the local chieftain in the 18th century. At one time the world famous Kohinoor diamond was house within the fort. It is a very nice place to visit in Amritsar, and it is situates in the center of Amritsar.
Address: Old Cantt Road, inside Lohgarh Chowk, Vijay Chowk, Amritsar, Punjab 143001
7.Maharaja Ranjit Singh Museum
Maharaja Ranjit Singh Museum is a great place to visit as it has a lot of things to see. This is a museum that is situates in Amritsar. Maharaja Ranjit Singh also known as Lion of Punjab. Maharaja Ranjit Singh Museum is situates 1.5 km from Amritsar Junction. This museum was establish in the memory of Maharaja Ranjit Singh. There are many things to see in this place. This is a beautiful place and most visit tourist attraction in Amritsar.
Address: Wagah, Hardo Rattan
8.Ram Tirath Ashram, Amritsar
source : https://cdn.s3waas.gov.in/
Ram Tirath Ashram, Amritsar is a historic place and is one of the most famous attractions in Amritsar. This Ashram is a beautiful place and you can visit it when you are in Amritsar. There are many things to see here and it is a very beautiful place. This place is famous for the ashram of Sage Mahirishi Valmiki. It is believe to be the ashram of Sage Valmiki, where Mata Sita took shelter on being abandoned by her husband Lord Rama. This Ashram is birth place of LUV and KUSH, who was the sun of Shree RAMCHANDRA.
Address: JW5G+X3X, Grand Trunk Rd, Near Canal, Baba Phoola Singh, Amritsar, Punjab 143001
9.Mata Lal Devi Mandir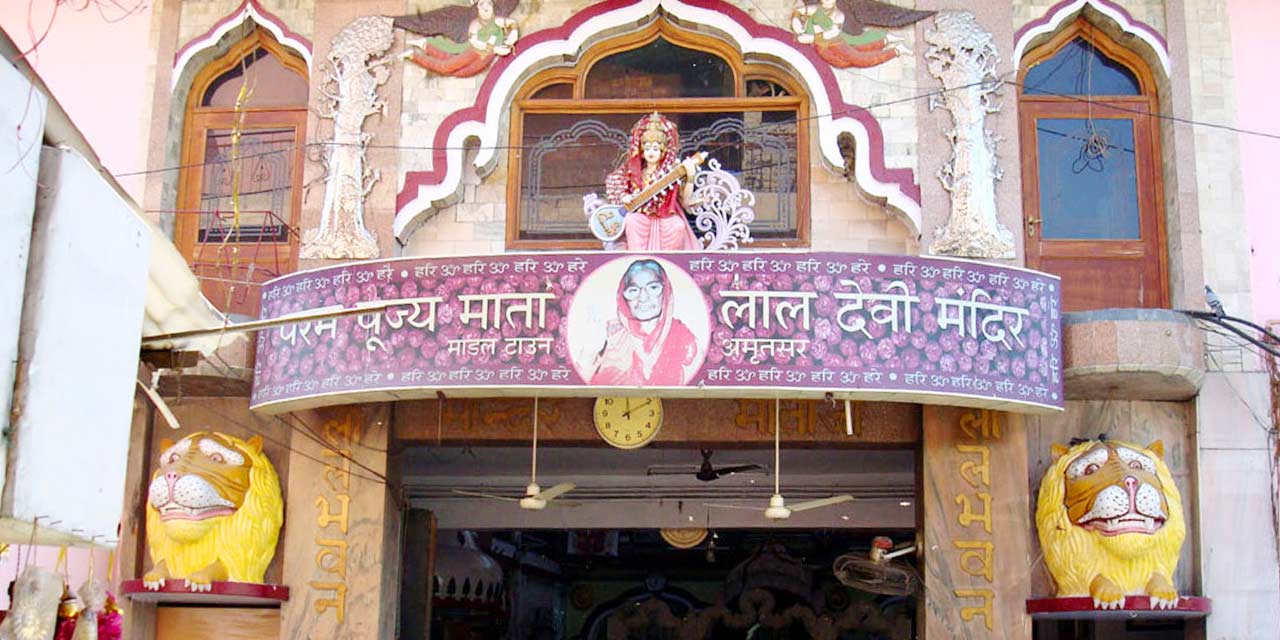 source : https://amritsartourism.org.in/
Mata Lal Devi Mandir is one of the very important places to visit in Amritsar. It is a very beautiful place and you can visit this place when you are in Amritsar. This temple is also known as Mother India Temple. There are many things to see here. This is most visit tourist attraction in Amritsar. This Temple is relates to the Hindu religion. There is a beautiful Shivling, which is very important to make the temple very beautiful. This is a very peaceful and quiet place to visit.
Address: Shivaji Park Rd, Mohindra Colony, Amritsar, Punjab 143001
10.Sadda Pind
Sadda Pind is a very old place and it has lots of history. Sadda Pind is a very popular place in Amritsar. This is a very nice place to visit because it has lots of history. You can learn here about Local culture of this Village. Here you will enjoy traditional Punjabi food. This place is very peaceful and one of the best tourist places in Amritsar.
Address: behind Main Bypass Road, Guru Nanak Dev University, Amritsar, Punjab 143105